About us

Our Facilites
Located on 90 acres of grassland, our modern facilities include the following:
- 70m x 30m indoor arena
- 80m x 40m outdoor arena
- 50m x 40m outdoor arena
- 70 stables (available for livery)
- Coffee shop
- Reception area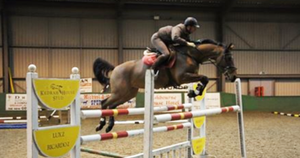 Meet Brian
At age 20, Brian Duff started Broadmeadow Equestrian Centre in Swords on his family farm in September, 1987. 10 years later the equestrian centre relocated to its current location in Ashbourne.

Throughout his career Brian has competed at Nations Cup Level with his beautiful grey Concord 41, he represented Ireland 4 times. Brian brings this wealth of experience with him now as he trains his students to the very highest levels. He and his staff are always available for any help and advice.
Brian is also taking on enthusiastic, talented young riders to train them 1 on 1 and to take them to the next level
Brian Duff Coaching